Gantt 5.0 + Scheduler 5.0 + Calendar 0.9.0 Released
After a long development push during the past two months, we're finally able to announce Scheduler 5.0.0 and Gantt 5.0.0 […]
After a long development push during the past two months, we're finally able to announce Scheduler 5.0.0 and Gantt 5.0.0 as well as the initial 0.9.0 release of our new Calendar. We also took some time to clean up and remove deprecated API members. We recommend you to go through the "Breaking Changes" section to see if there are any changes that could affect your code base. If you're using an API that is marked as deprecated, please take the time to update/replace it according to the changelog. Let's dig into the details to see what's new!
Ext Scheduler 5.0
This release is the largest we ever made for our Scheduler product. To allow for easier browsing of our many examples, we made a new kitchen sink.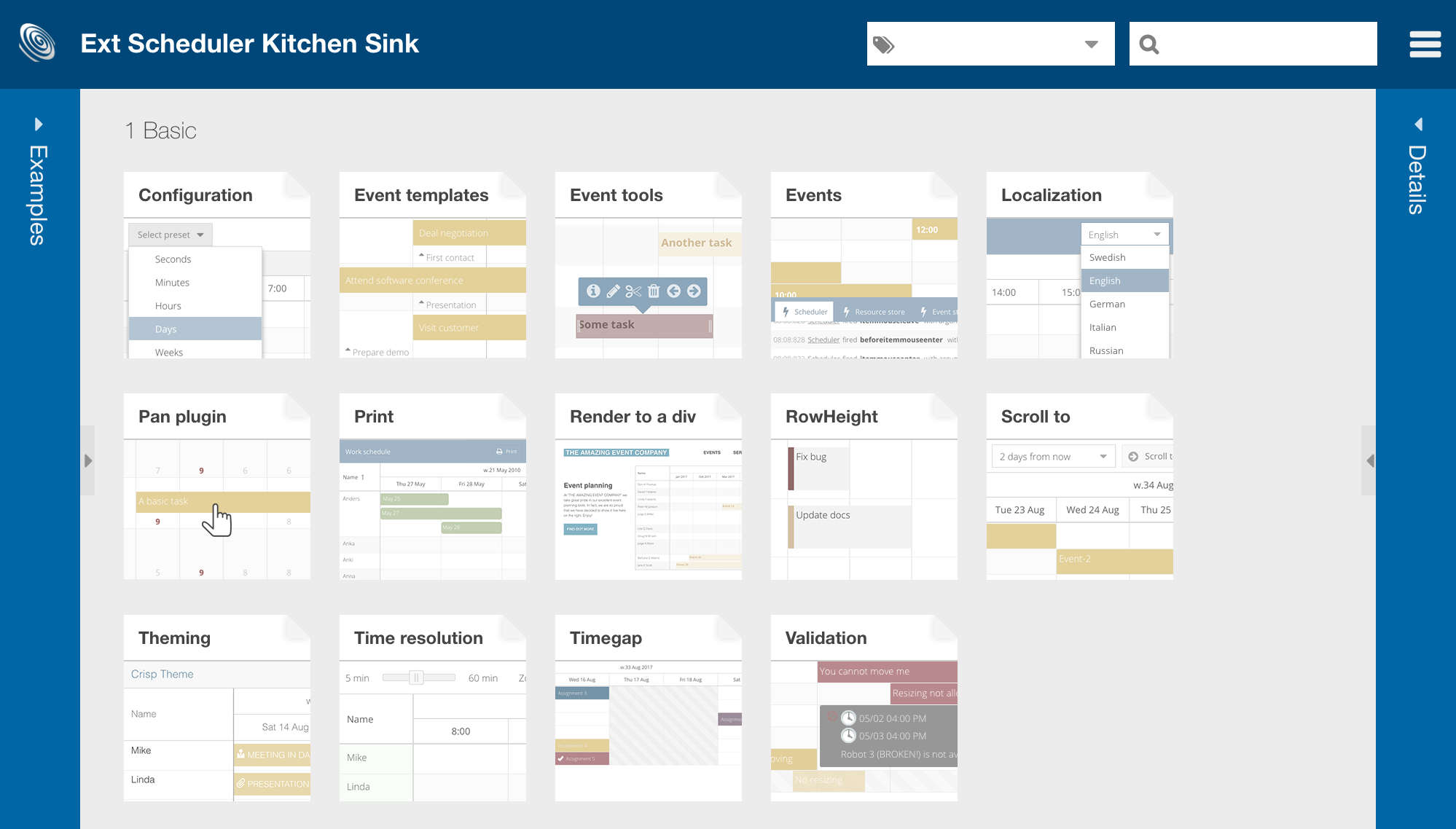 We also fixed numerous bugs and added some new important features:
New EditorWindow plugin which shows the event editor form in a window popup
Support for creating dependencies in the Scheduler, as supported previously only in the Gantt chart
New Resource name column, included by default showing the name of your resources
Styling is now SASS based as in Ext JS, making it much easier to theme the scheduler.
New split grid demo showing how you can split the scheduler into two vertical sections
New 'render to div' demo showing how to integrate the Scheduler into a basic HTML web page
New 'scheduling suite' demo showing how Scheduler, Task board and Calendar can share and visualize the same store data
Updated styling to be consistent for all samples
Below you can see the new experimental demo of the split section feature: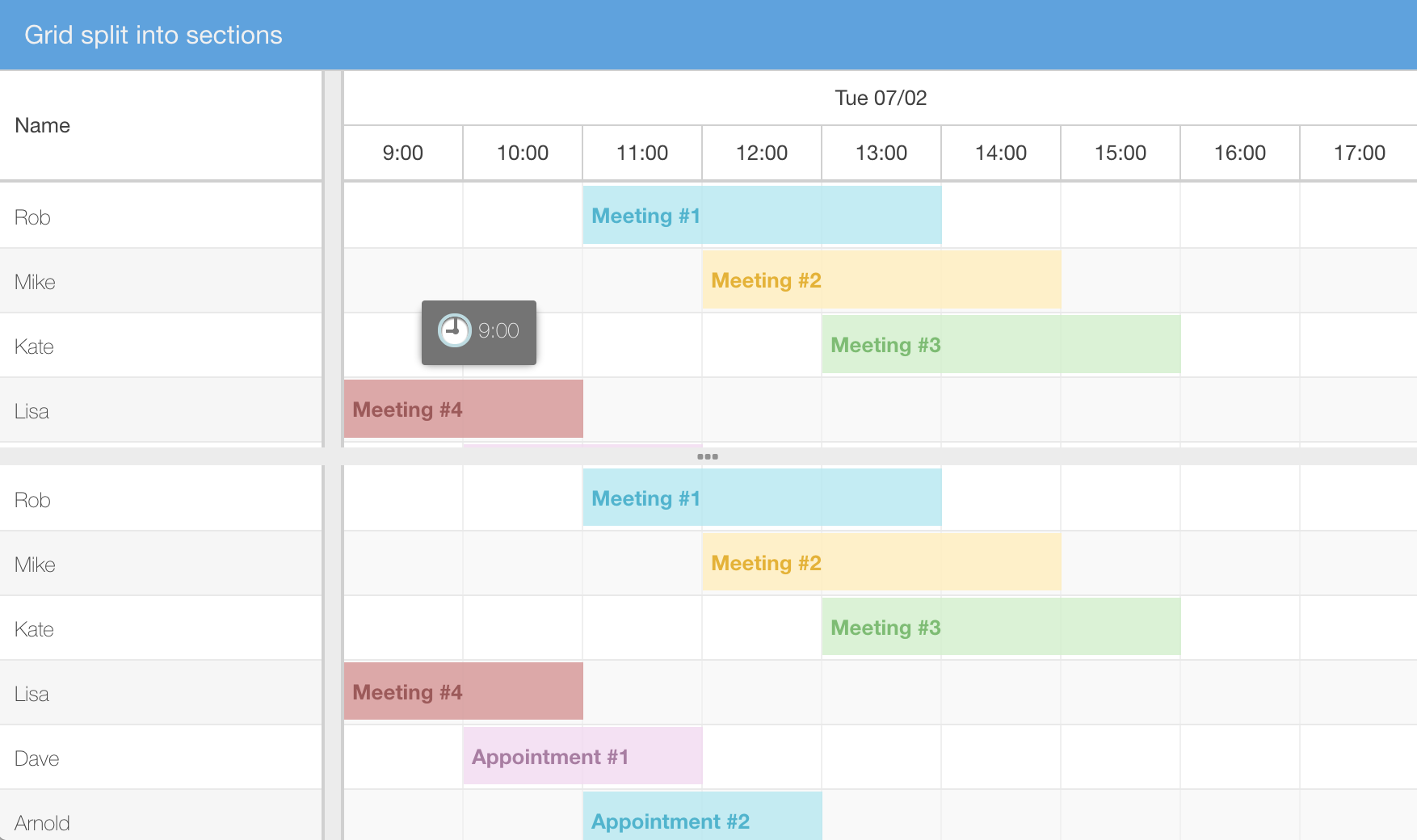 For a full list of changes, news and updates of the release, please refer to the changelog.
Ext Gantt 5.0
For Ext Gantt release is the largest we ever made for our Scheduler product. On a high level here's what's new:
As with Ext Scheduler, all our component styling is now SASS based.
New flag `autoCalculateLag` on the DependencyStore which calculates and set the lag of new task dependencies
New ´readOnly´ config available on Gnt.panel.Timeline. Set it to ´false´ to enable drag drop of tasks in the timeline (true by default)
New demo showing the Scheduler using the Gantt task store to schedule tasks and take calendars / dependencies into account.
Normalized styling of all samples
Below you can see the new combination demo of the Gantt task store used in Ext Scheduler: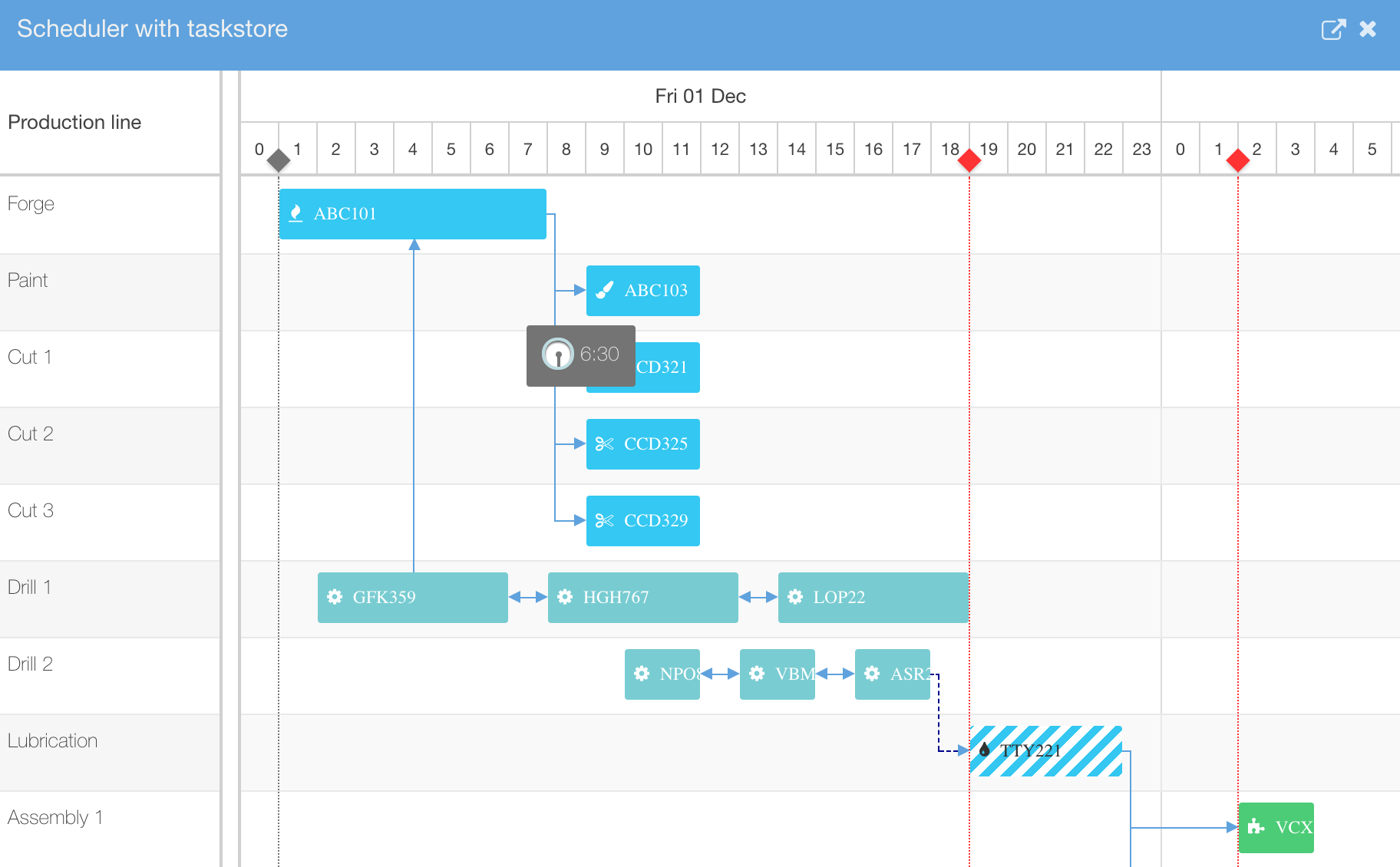 For a full list of changes, news and updates of the release, please refer to the changelog.
Bryntum Calendar 0.9.0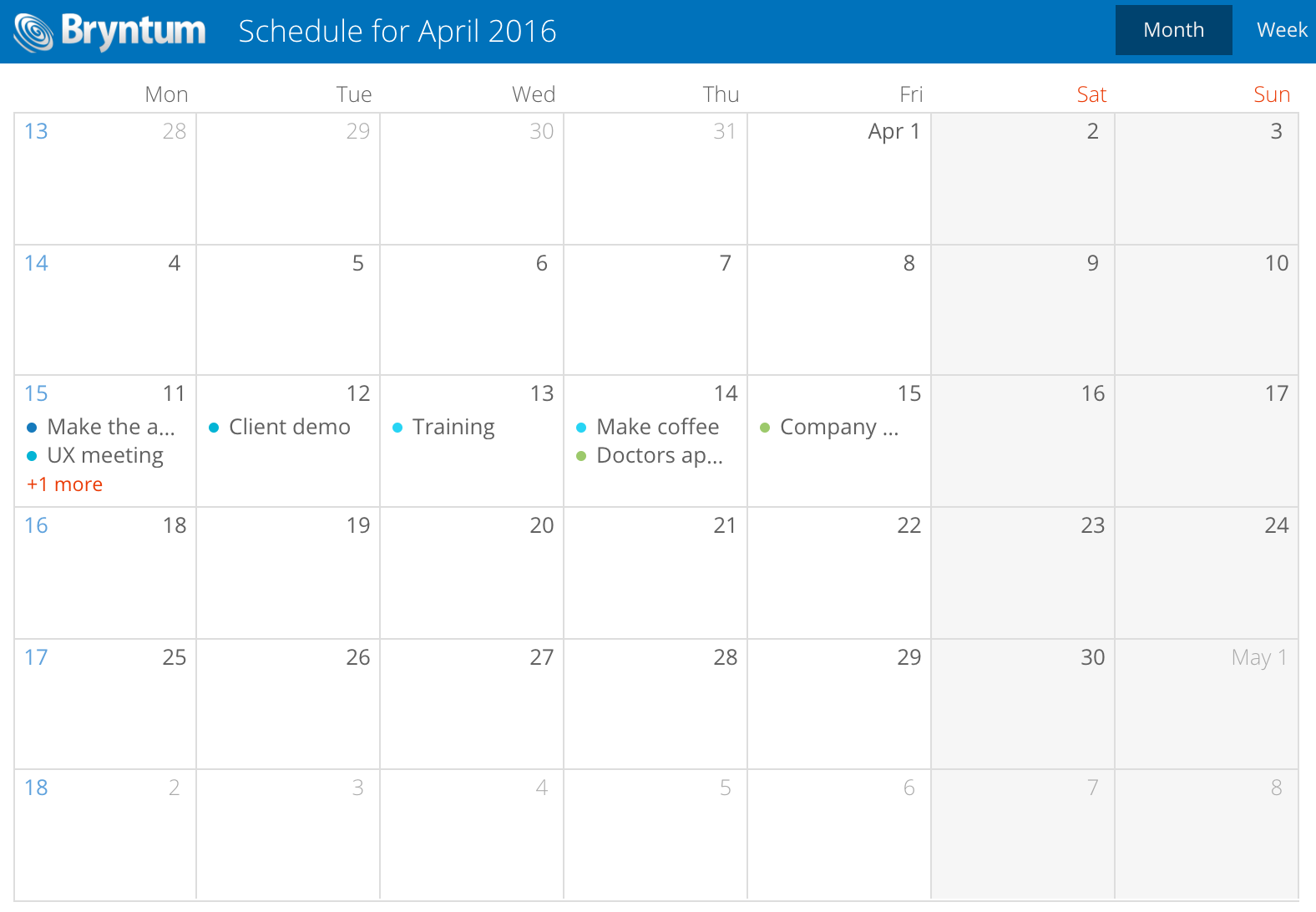 We're happy to announce the initial release of our latest UI component – the Bryntum Calendar. This was very often requested in the past and with this component, our scheduling suite gained a new vital piece. It contains the essential calendar day view, week view and month views (agenda + year view are both in progress). The data integration is very easy if you have worked with our other products or Ext JS data stores in the past. The Calendar includes various examples to get you started, and as with all our products it ships with its own Siesta test suite, so you can assert the quality of each release yourself.
With the arrival of the Calendar component, you can now schedule and manage tasks in any way you want, horizontal/vertical resource view, day/week/month view, Kanban view and Gantt view. The Calendar component integrates nicely with our other components, showcased in our new ´scheduling suite´ demo.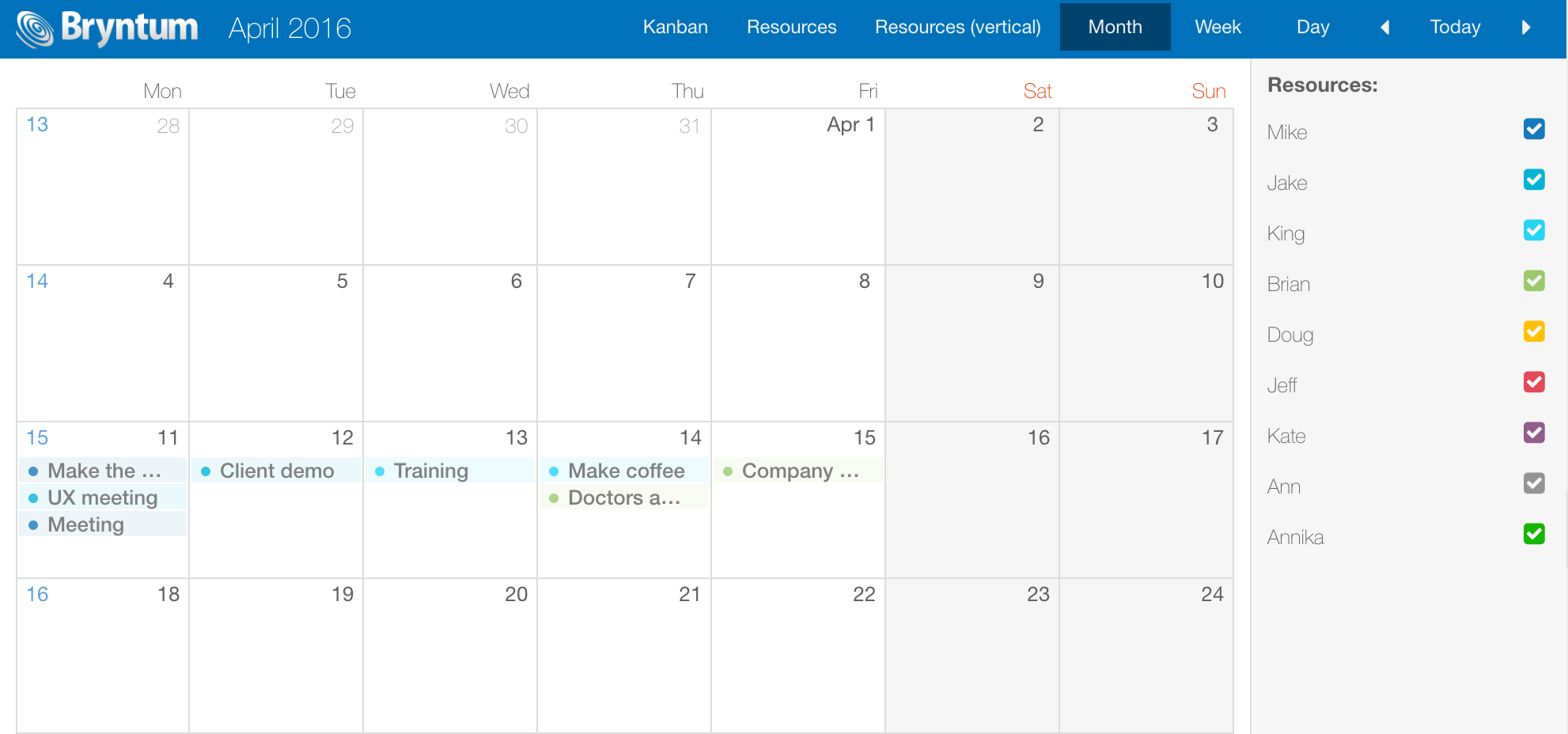 Summing up
If you want to try out or new releases, just head over to the sample pages of the respective product (listed below). We hope you'll like our new releases and please let us know us of any feature or bug you would like to see prioritized. We're trying hard to be as customer driven as possible. Happy scheduling!
Additional Resources