Scheduler vs Scheduler Pro
Trying to pick between Scheduler or Scheduler Pro? Read on to find out more about the difference between the two
More Features
Scheduler Pro is an extension of Scheduler, with additional features such as:
Travel time
Resource Calendars
Constraints
Highlighting Features
Scheduling Engine
Custom Event Grouping
Event Splitting
Nested Events
Extra Integration Demos
Combining with Gantt
Scheduler Pro can consume Gantt projects and be used to visualize Gantt tasks in an alternative way: Gantt + Scheduler Pro demo
Mapbox Integration
Integrate Scheduler Pro with Mapbox (3rd party map library) to visualize events on a map: Maps demo
Overlay Chart
Add a chart to the schedule using Chart.js (3rd party chart library) to visualize relevant data: Embedded Chart demo
Features
Scheduler
Scheduler Pro
Dependencies between events
Purely visual
Affects scheduling
Editing events
Basic editor
Advanced editor
Calendars
Weekends only
Project, resource and event
Highlighting calendars & time spans
Visualize resource time ranges
Event layouts
Stack, pack, overlap
Stack, pack, overlap, group, custom
Powerful Scheduling Engine
Scheduler Pro has a built in powerful scheduling engine. It is the brain keeping your tasks scheduled based on:
Working-time calendars
Can be specified on project level, per resource and per event. Defines intervals of working or non-working time, the intervals can be recurring. See for example the Event non-working time demo
Dependencies
Dependencies between events determine when a successor can start. Shown in the Dependencies demo
Constraints
Per event constraints (for example Must start on or Must finish on) are taken into account when scheduling. Used in the Constraints demo
Additional Widgets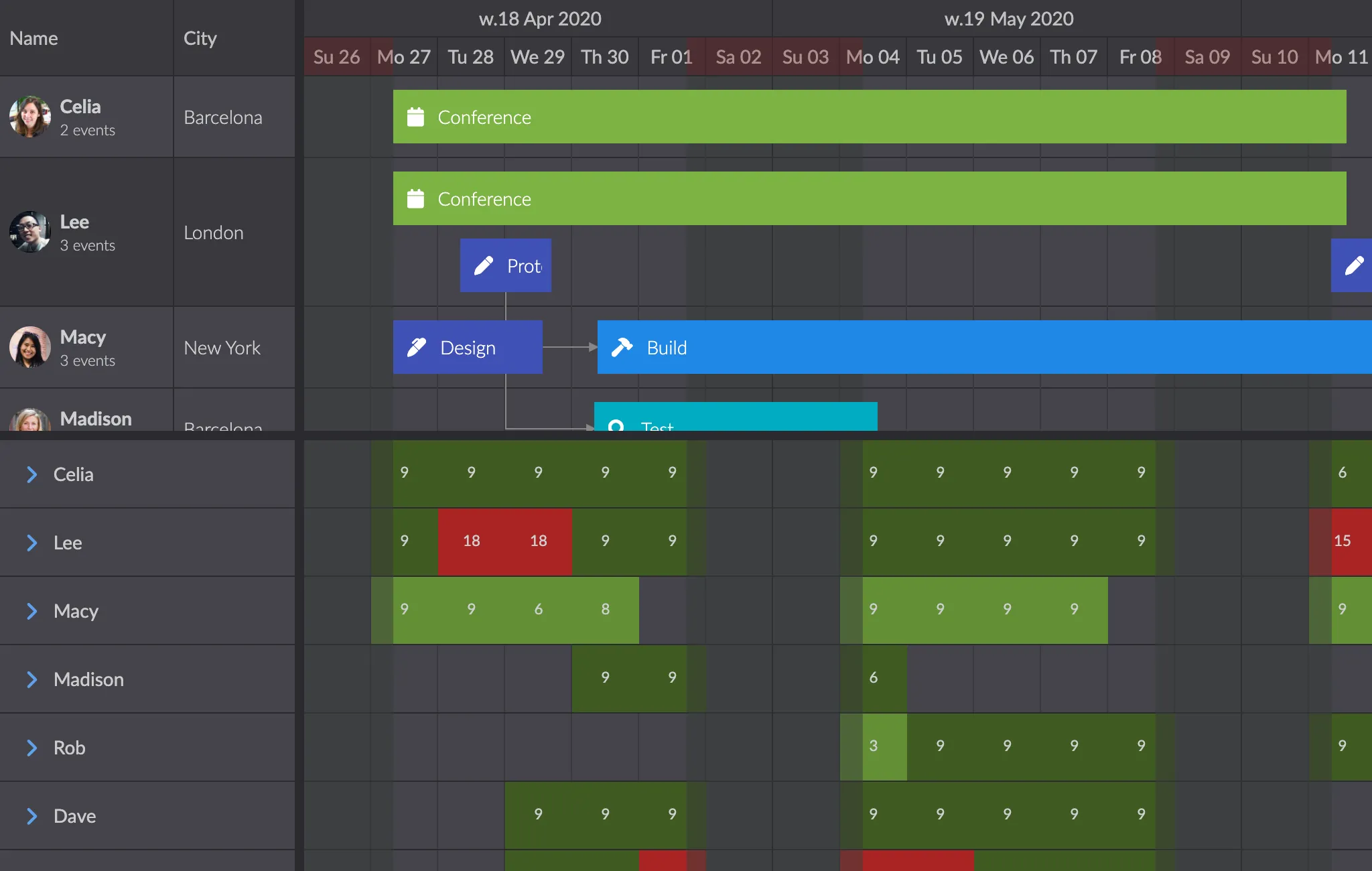 Resource Utilization View
The Resource Utilization View visualize allocation per resource and event, and lets you easily spot any overallocation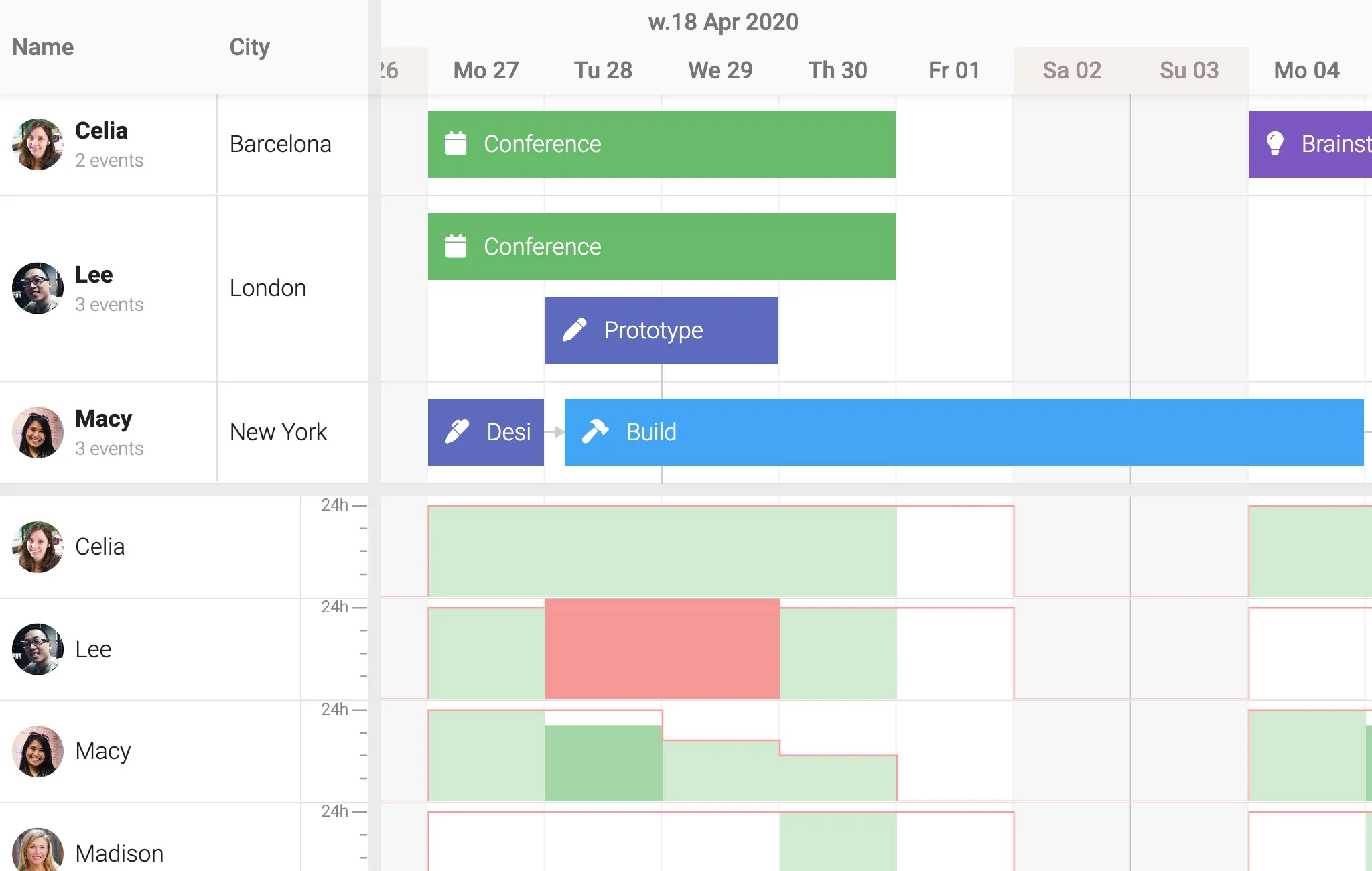 Resource Histogram
The Resource Histogram visualize resource allocation and working time as a bar chart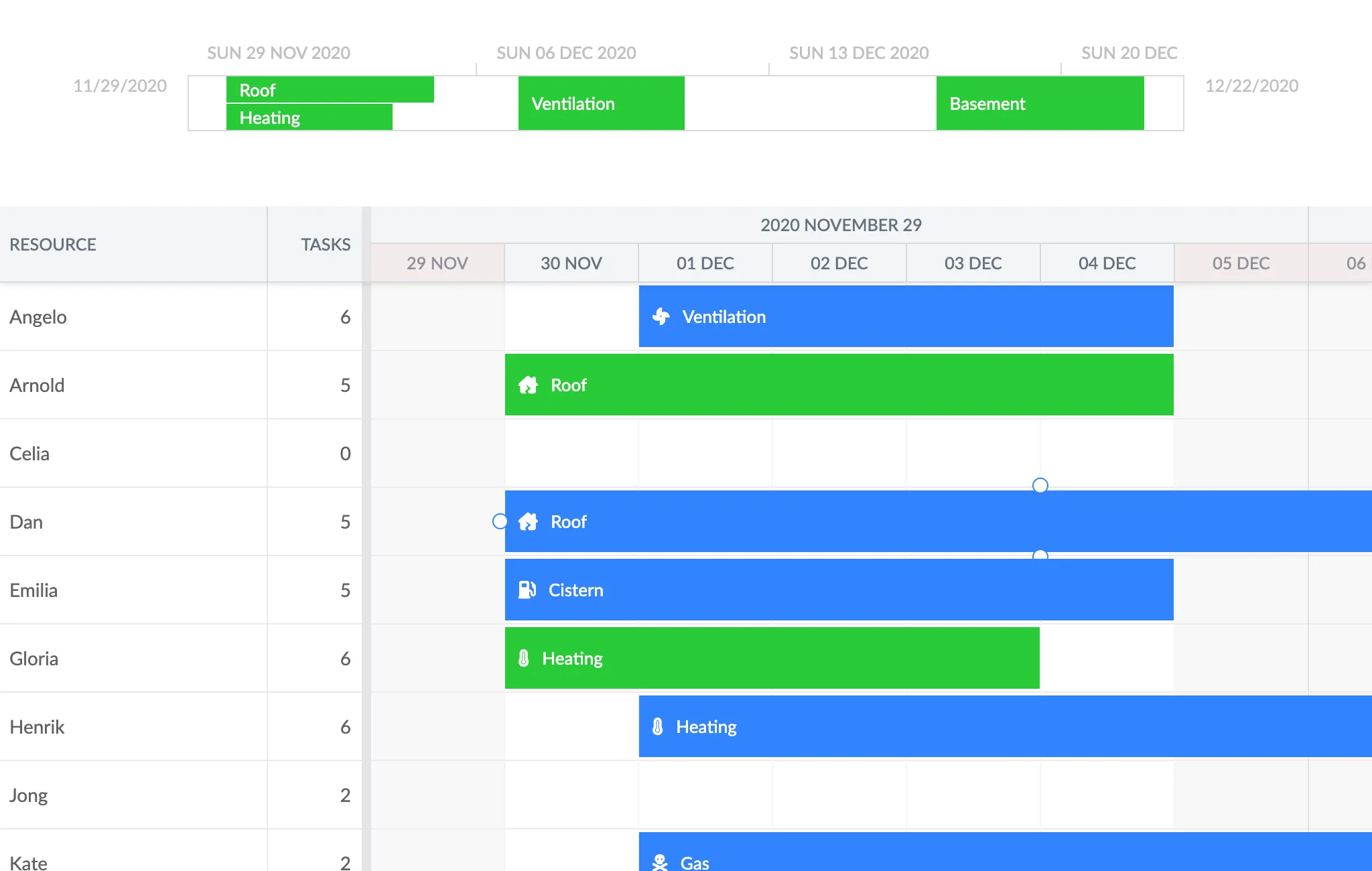 Timeline Widget
The Timeline widget is a readonly view that visualize specific events independent of which resource they are assigned to.