Customer Spotlight: MeData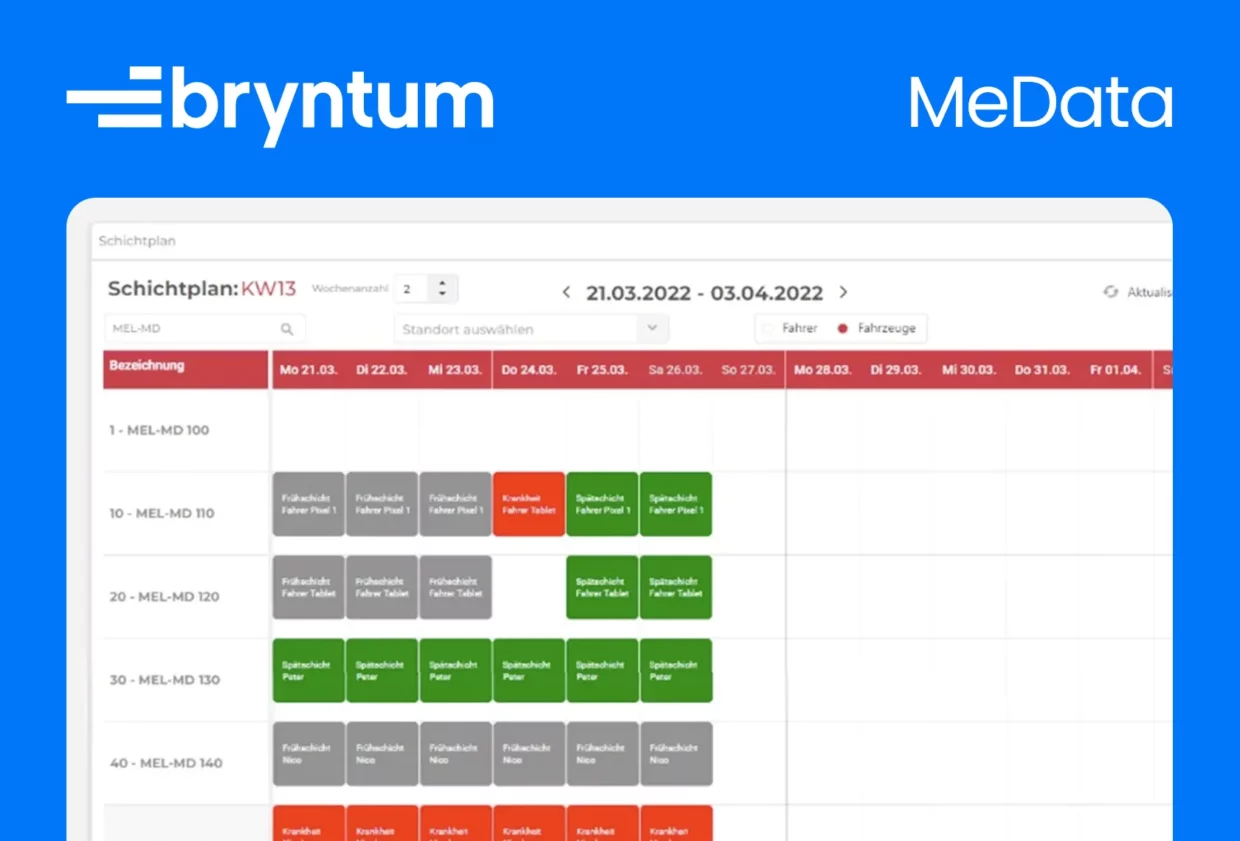 About MeData EDV-Systeme GmbH The world economy is becoming increasingly global, interconnected and faster. Major international corporations and regional medium-sized […]

About MeData EDV-Systeme GmbH
The world economy is becoming increasingly global, interconnected and faster. Major international corporations and regional medium-sized companies are linked by closely timed supply chains. The use of software is moving beyond standard applications to highly complex IT systems tailored to the customer's requirements.
MeData Systemhaus develops and operates these stand-alone software and hardware solutions in the highly complex field of logistics. MeData can draw on more than 30 years of experience.
MeData's system solutions integrate a wide range of additional functions for planning, forecasting, dispatch and feedback. There are also proprietary on-board computer systems and mobile app applications for fleet management.
Our use of Bryntum Scheduler
The requirements of modern logistics processes demand exact and fast time planning tools.
Time sequences and their representations are an essential component both in the operational application and in the computing operations running in the background. The Bryntum Scheduler makes it possible to execute large computational operations based on a multitude of tour scheduling without any time delay for the user in the background.
The fluent visualization allows the user to perform many different tour planning operations without calculation delays, so that thanks to the Bryntum Scheduler a maximum of efficiency is given.
Implementation of the Bryntum Scheduler
Within our logistics software, the scheduler is used to schedule driver shifts and to schedule vehicles and orders.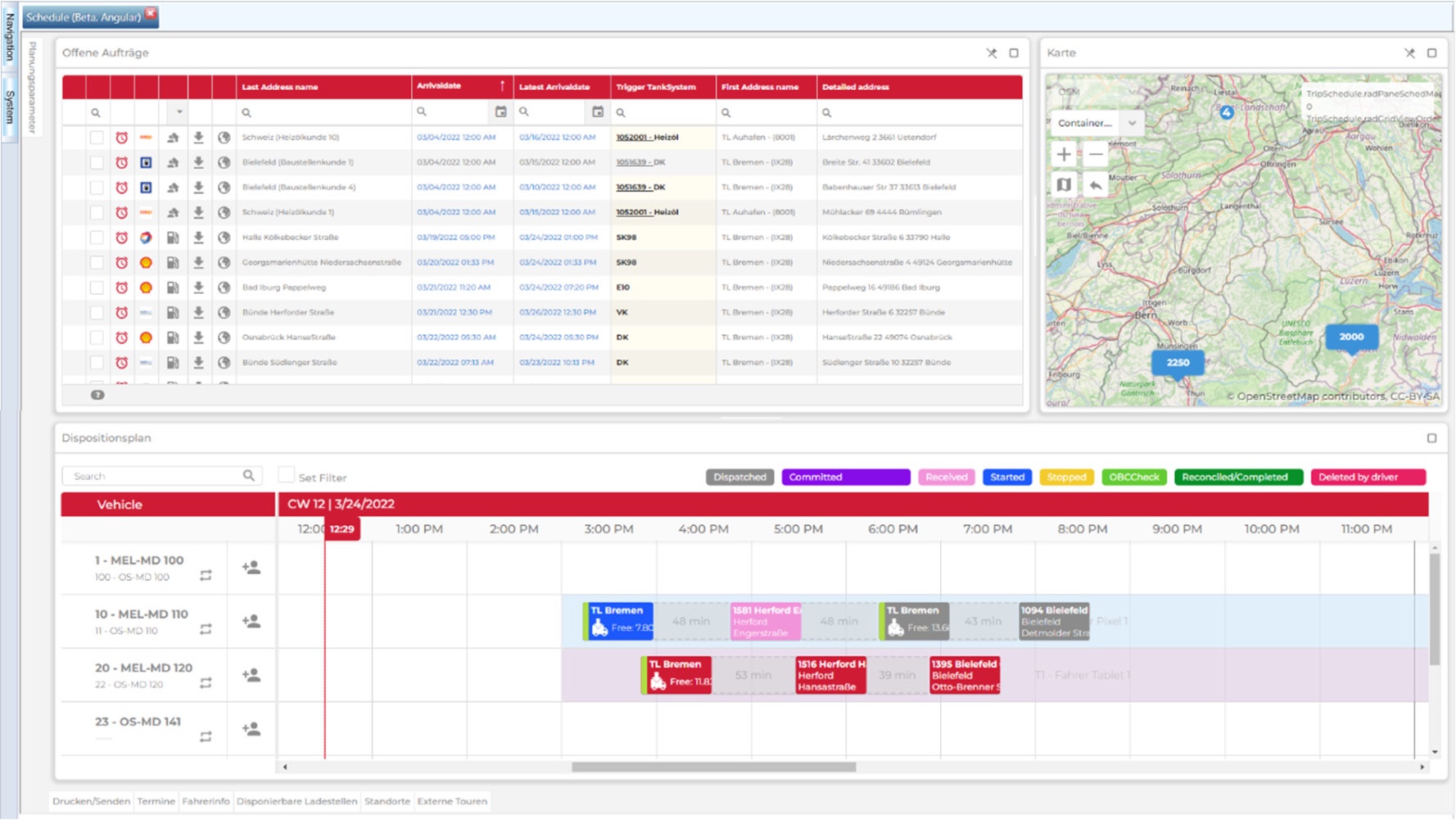 The Typescript-based framework Angular is used in the frontend. In addition to the Bryntum module, other modules are used for popups or grids. A middleware enables communication between the frontend and the net backend.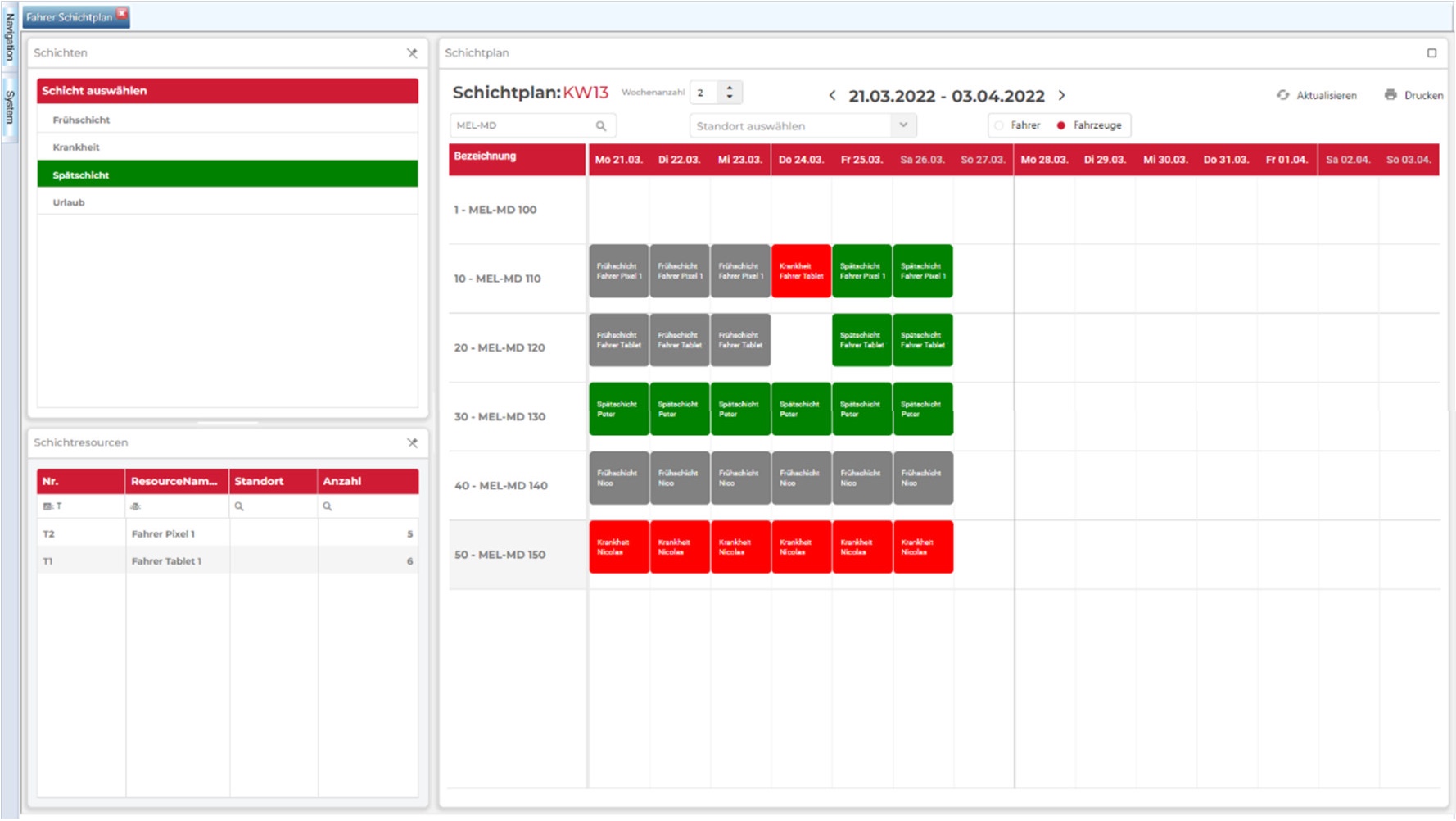 If, for example, events are moved to another resource (vehicle) in the Bryntum Scheduler, this is validated in the frontend, forwarded to the backend for processing and then returned to the frontend.
What do our customers expect from the Bryntum Scheduler?
Graphical user applications have since become very popular in general and especially in logistics software.
Up to now, the schedule displays were limited to DOS environments and displayed in a cumbersome graphical way.
With the new Bryntum Scheduler, a completely own engine is finally integrated into our logistics application, which meets all requirements on the part of the users and the resource management.
Our customers appreciate the clarity and functionality very much, so they are already quickly familiar with the application during the training sessions, which speaks for the high intuitive usability of the Bryntum Scheduler.
Especially when there are many tours to be planned, the ease of work is immediately recognizable due to the simple handling, thus saving time and costs.
Satisfaction and expectation
With the good support from the Bryntum support team, we were able to implement our customers' requirements for the disposition plan, as well as challenges that arose during development, very quickly. The performance of the scheduler convinced us. No matter how many events and vehicles are displayed, the scheduler always reacts without any delay.
We hope that further updates will keep the stability and performance at a high level.